Market Share of Polyacrylamide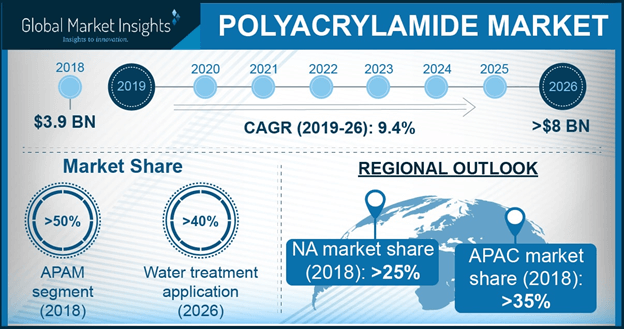 According to the report published by Global Market Insights, Inc., the polyacrylamide market scale is expected to hit $8 billion by 2026, registering a CAGR (compound annual growth rate) of 9% from 2019 to 2026. As a common-used flocculant, the demand for polyacrylamide is increasingly expanding and surging, and the thickening agent for water treatment operations in multiple industries will contribute to the industry growth.
Cationic Polyacrylamide Market Condition
As a derivative product of the polyacrylamide, cationic polyacrylamide has the second-largest share of more than 30% in PAM market segment. It is predominantly used as a sludge conditioner because of its characteristics such as low dosage, high efficiency and environmental-friendly effects. CPAM is regarded as an efficient flocculant when used together with inorganic coagulants. As the wastewater treatment sector grows rapidly, the demand for cationic polyacrylamide is anticipated to rise in several processes over the forecast period.
Major Applications of Cationic Polyacrylamide
Cationic polyacrylamide is extensively used in multiple industries and areas, including water treatment, oil and gas, and paper making. Other application areas include pharmaceuticals, cosmetics, and personal care products.
Applications in the papermaking industry
Cationic polyacrylamide market will get popular as a retention aid in the papermaking industry. Recently, CPAM is primarily used at the wet end of the paper manufacturing to improve retention of fillers, fine particles, additives & sizing agent throughout the creation cycle of paper making. Paper and cardboard are expanding its business scope as suitable packaging materials in various industries including food and beverages, garment, textiles, consumer and personal care and pharmaceuticals, which greatly fuels the CPAM growth over the forecast period.
Polyacrylamide from Oubo Chemical
As a China manufacturer, Oubo Chemical always keeps up with the polyacrylamide market. By now our polyacrylamide has been exported to markets including Middle East, Africa, South America, Southeast Asia, and even Europe. With the benifit of the rising market, Oubo is able to expand our production and keep investing in R & D. In China market, our PAM products have gained trust and favor from clients. We're doing our best to reach more clients worldwide.
Click to Reach Oubo PAM products
---
Post time: Sep-17-2020